WEDNESDAY EVENTS
| SUN | | MON | TUE | WED | THUR | FRI | SAT | Coming Attractions |

Click Here For Info
The Perfect Weeknight Chill Spot
Live Music + $25 Wine Bottles
Wednesdays at A'dor3
403 W gray


---
---

Click Here For Info
Every Wednesday is Wing Night
75cent Wings
$5 happy hour specials
$20 Hookahs | Sports on All Tvs
Free Entry all Night
TheBar2200.com


---

Steak Night Wednesday
Double Apple Hookah Bar
6423 Richmond Ave
7p-2am
No cover, free parking, BYOB
Music by DJ Meek & DJ Gloss


---

Welcome to Marlo's Bar Lounge.
Located in Third Ward Houston
at 2414 Pierce St Houston, Tx 77003
This is an uPScale Bar & Lounge + Hookah 
for the Grown, Sexy, and Classy in Houston's 
very own Third Ward / Midtown District. 
A Choice Lounge for Great Drinks, Music and Great Vibes.
At Marlo's we serve up the best Martini's, 
Craft Cocktails and Wines all evening, and all night long. 
You will not be disappointed. 
Come check out the Hookah Girls serving up all flavors 
of your best Hookah all evening, and all night long.
NOTE: Age 25 and uP. Elevated, 
Casual Classy Attire is Highly Suggested.
2414 Pierce


---

FLIRT AFTER WORK WEDNESDAYS
at DBAR
(4409 Emancipation Ave)
5PM - 2AM
DJ GOODGRIEF + DJ JQUE
Full Kitchen | Hookah | Drink Specials
| $5 Patron | $7 Long Islands
$6 Hennessy | $5 Crown | Hookah


---
THURSDAY EVENTS
| SUN | | MON | TUE | WED | THUR | FRI | SAT | Coming Attractions |

The best damn food & drink specials 
on a thursday is at @bellestationhtx tonight!
Join Us For The All New Thursday Nights 
at @bellestationhtx 
For #TheSetUpThursdays 
With Sounds By Houston's Hottest DJs 
@theycallmewreck & @djjque

.75 Cent Wings 4pm-close
Happy Hour 4pm-8pm
$4 Drafts | $4 Wells |$4 House Wines
Power Hour 8pm-11pm
$5 Ketel One | $5 Crown Royal | $5 Don Julio | $5 Tanqueray

Reverse Happy Hour 11pm-2am
$5 Margaritas | $6 Hennessy | $7 Long Islands

FULL KITCHEN ➕ HOOKAHS AVAILABL
FREE ENTRY ALL NIGHT
RSVP FOR TABLE & BOTTLE RESERVATIONS @blatigue


---

Thirsty Thursdays
at Seaside Lounge
Hookah, Great Seafood, Music and More!
Crawfish Served Daily 4-11pm
$3 Henny Special 4-9pm
No Cover


---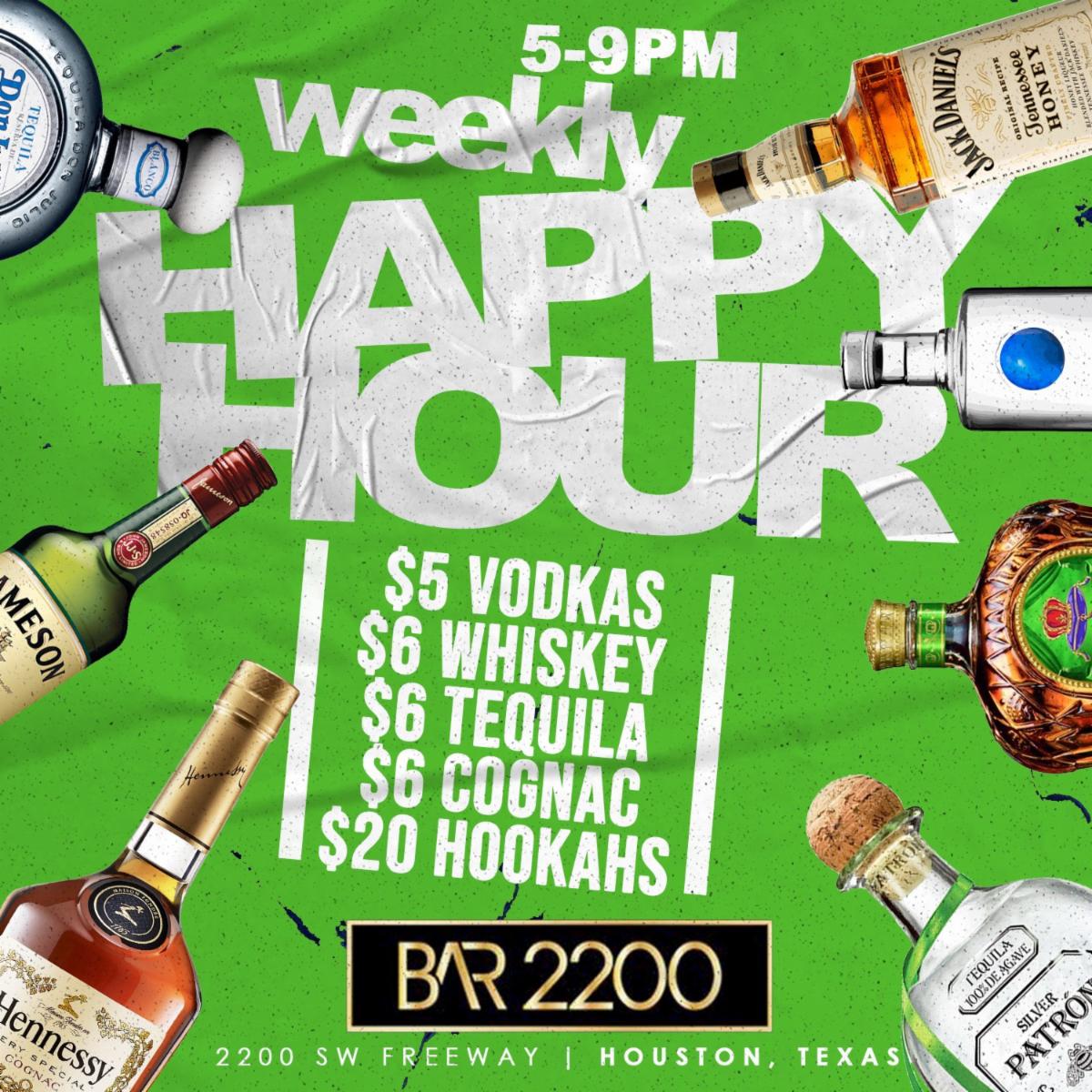 Click Here For Info
Thursday Night Football @ Bar 2200
Rockets Vs Clippers watch Party
$5 Drinks + $20 Hookahs till 9pm
Food Menu Available
Free Entry All Day
Located 2200 Southwest Freeway


---

InCrowd + DKB + Alife
presents
Therapy Thursdays
Each & Every Thursday
4105 Washington Ave


---

Thursdays at A'dor
Crawfish, Shrimp, & Karaoke | 
$5 Happy Hour til 8pm
Free Appetizer w/RSVP


---

Waxaholic THURSDAYS
at Alley Kat
No Cover
3718 Main St


---

Click Here For Info


THE FRIDAY EXCHANGE 
Everyone Free All Night 
w/ Rsvp thefridayexchange.eventbrite.com 
@imdonniehouston | @micheleonair | 2 LEVELS 
TACOS & STEAK NIGHT | BEST OF 90'S vs. TODAY'S HIP HOP 
R&B | THE HITS. 
Doors open 9pm | 809 Congress St. 
@henkeandpillot #theFRIDAYexchange



Click Here For Info

---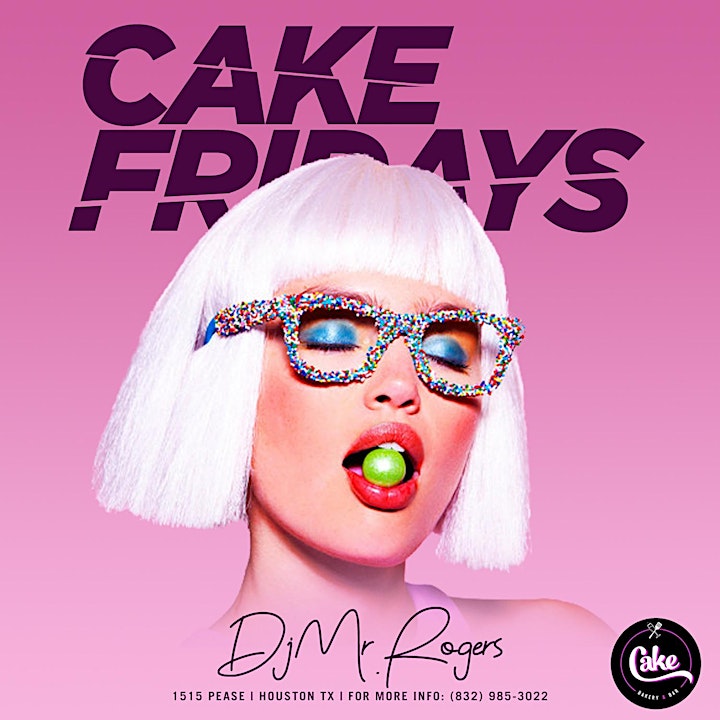 Click Here For Info


THE SEASON | J MULAN | ARISTOCRAT LIFE present
CAKE FRIDAYS
@ CAKE BAKERY & BAR
HOUSTONS NEWEST ULTRA NIGHTCLUB
1515 PEASE ST, HOUSTON TX, 77002
LADIES FREE TIL 11PM
COMPLIMENTARY CHAMPAGNE & COTTON CANDY
SOUNDS BY: DJ MR ROGERS & DJ QHOLIC
TABLE & BOTTLE SERVICE IS HIGHLY RECOMMENDED
DRESSCODE: UPSCALE & FASHIONABLE ATTIRE ONLY
The Following Attire Will Not Be Permitted
NO Jerseys, Athletic Wear, Ball Caps, Work Boots, No Flip Flops (ladies)
VALET & COMPLIMENTARY STREET PARKING
HOOKAH SERVICE AVAILABLE
FOR TABLE RESERVATIONS: 832-512-6515


---

Houstons #1 Friday Happy Hour 
at THE ADDRESS
50 Cent Wings & $7 Henn From 4-9pm
832.330.6800 To Reserve Your Table


---

Click Here For Info


GOODFELLAS 
present
SPIRE on FRIDAYs
at
SPIRE NIGHTCLUB
1720 Main St | Houston Texas | 77002
Houstons #1 Nightlife Destination
RSVP for Free Entry and Free Hennessy
Dresscode Strictly Enforced This Is Not Your Typical Friday Night
Dress Up or Miss Out
Bottle Service Is Highly Recommended
For Tables & Info Call/Text 713.459.9019
RSVP FOR FREE ENTRY at



---

Click Here For Info


@GHOSTHTX
3105 MAIN ST HOUSTON TEXAS 77002
DOORS OPEN 10PM - DOORS CLOSE 2AM
PISCES FREE ENTRY ALL NIGHT
75 CENT DRINKS + $1 CRAWFISH 7PM-11PM
CURRENT HIP-HOP | EARLY 90'S 00'S R&B | SOME AFRO AFROBEAT
MORE INFO OR SECTION RESERVATIONS CALL or TEXT 832-577-7501
GHOSTFRIDAYS.COM


---

Free Crawfish Friday's 
at Seaside Lounge Tonight
Happy Hour at Seaside 4-10pm
Free Crawfish with $5 Drink 4-9pm
$5 Drinks Specials 4-10pm


---

Click Here For Info


@SPACEFRIDAYS
2401 SAN JACINTO STREET HOUSTON, TX 77002
DOORS OPEN 10PM - DOORS CLOSE 2AM
PISCES FREE ENTRY ALL NIGHT
COMPLEMENTARY HANDCRAFTED HENNESSY COCKTAILS TIL 11PM 
+ FREE ENTRY & $5 DRINKS TIL 11:30PM w/RSVP
CURRENT HIP-HOP | EARLY 90'S 00'S R&B | SOME AFRO AFROBEAT
MORE INFO OR SECTION RESERVATIONS CALL or TEXT 832.713.8404
http://spacenightclub.eventbrite.com


---

Click Here


FRIDAY AT BAR 2200 IN RIVER OAKS
NBA GAMES ON ALL TVS
FREE MARTELL COGNAC FROM 7PM-9PM
$5 HAPPY HOUR DRINKS EVERYDAY & $20 HOOKAHS FROM 5PM-9PM
FREE ENTRY ALL NIGHT | DRESS CODE ENFORCED 
FOR BOTTLE SERVICE OR MORE INFO TEXT 832.338.3829 


---

#CoutureFriday photoShoot Party! 
At #belvedere Hosted by @bphotography713 
Live lingerie photoshoot in the white Room 
(4 models, 3 Photograghers)
Free head shots for All guests.  
Free cover charge, 2 DJs @voteformeek & @theycallmewreck spinning.  
Birthdays coming up? 
For free birthday section, champagne bottle, guestlist and flier 
hit 713.292.7995
@couturefridays_belvedere


---

Click Here For Info


ALL NEW HEIST FRIDAYS AT AURA 
IS THE NEW HOME OF THE CITY'S TOP INFLUENCERS & TASTE-MAKERS. 
RUB SHOULDERS WITH THE HOTTEST MODELS & ATHLETES 
AT THE CITY'S NEWEST FRIDAY NIGHT PARTY!!!!
FREE HENNESSY + $2 DRINKS ON US RSVP NOW!!!
CELEBRATE YOUR SPECIAL DAY LIKE THIS
CELEBRATE YOUR SPECIAL DAY FOR FREE 
OUR SPECIAL BDAY PACKAGES & $150 BOTTLES TILL 11:30PM!!! 
RSVP NOW FOR FREE ENTRY & BOTTLES ON US
FOR SECTIONS & BOTTLES 832.236.2800


---
---

FREE FRIDAYS at GROOVES 
(2300 PIERCE ST.)
EVERYONE FREE ALL NIGHT
HOUSTON'S BEST HAPPY HOUR
.75c DRINK SPECIALS
$5 PREMIUMS
1/2 OFF APPETIZERS
W/ DJ GT, ENERGIZER THA DJ, 
STARR SKYWALKA & MORE INDMIX
FOR TABLES/INFO 713.652.9900


---

Click Here For Info


SATURDAY'S SECRET 
AT ROSE GOLD COCKTAIL DEN
BRINGING SEXY BACK!
Adult Urban Hang Suite
Saturday Nights at Rose Gold
No Cover w/ RSVP
DJ Donnie & GT inDmix
http://rosegoldsecret.com


---

Click Here For Info
DIOR SATURDAYS
NOW at CAKE HOUSTON
FREE ENTRY TILL 11pm
(Guest List see number below)
DOORS OPEN: 10:00 PM
CLICK HERE FOR FREE TICKETS NOW!
For Section Reservations / Bottle Service
TEXT/CALL 713.459.9019 For sections or to get on my guestlist till 11:30pm
For the sophisticated, stylish, energetic
and strictly for social jet setters
and exceptional taste makers. Influencers.


---

Click Here For Info


THE RETURN OF SATURDAY NIGHT LIVE 
AT SEASIDE LOUNGE
GOOD VIBES + SIGNATURE DRINKS + ARCADES + PATIO BAR 
DJ J Que & DJ Hefna inDmix
NO Cover All Night 
702 W Dallas St
For Tables & Info Call/Text 713.459.9019 


---

Click Here For Info


12p-10p | DAYTOX PRESENTS
BRUNCH -N- BUBBLY w/ DJ CEE WATTS 12p-5p +
SATurDAZED DAY PARTY 5p-10p w/ DJ MR ROGERS 
@ THE ADDRESS 
FREE ENTRY EVENT TIL 10P
5 POUNDS FOR $20 CRAWFISH TIL 10P
HAPPY HOUR FOOD & DRINK SPECIALS 3-8P
$5 WELLS | $5 FROZEN RITAS | $7 PREMIUMS
$8 HENNY RITAS | $20 HOOKAH 
1/2 OFF BAR BITES (selected items)
$20 HOOKAH
SOUNDS BY DJ MR ROGERS | DJ CEE WATTS
BOBBY BANDZ | D WELLS | MC MAJOR

——-

10-2A | UPTOWN SATURDAY NIGHTS PRESENTS
THE SHOW PROVIDED BY DJ JQUE | MC BEEZY | DJ YOUNG STREETZ
FREE ENTRY TIL 9P
FULL KITCHEN MENU (try the grilled wings & shrimp)
HOOKAH
VIP TABLES & INFO:
Text or Call - 832.379.9194


<!-

Click Here For Info
-->

---

Click Here For Info
LOVE/HATE Saturdays
Spinning The Best of Classic Hip Hop & R&B
Classy Adult Playground for Houston's discerning socialites
at Belvedere Uptown Park
1131-01 Uptown Park Blvd #310, Houston, TX 77056
No Cover | Free Parking | Hookah
Discounted Bottle Service till 11:30
Food On The Patio
Mature Audience
For Info/Table Reservation >> 713.459.9019 or 281.995.3311
RSVP & Book Tables >> http://lovehatehtx.eventbrite.com
$260 Bottles before 11:30pm [Crown, Vodkas, Rose Moet, Hennessy]
$320 Bottles After 11:30p [Crown, Vodkas, Rose Moet, Hennessy]
$360 Bottles All Night VSOP, Patron, Don Julio
$180 Moet White Star


---

River Oaks Ladies Night
A 30 and Over Event 
Reggie Jamz and Good Grief 
with DJ B Love
Sat Mar 14th
at 5 Central
2736 Virginia St.


---
---

Click Here For Info
SATURDAY NIGHT VIBES AT KAPRI ULTRA LOUNGE
(GALLERIA HOUSTON)
NEW CROWNED JEWEL OF UPSCALE SATURDAY NIGHTS
SOUNDS BY DJ J STONE + DJ Cee Watts
THE BEST SATURDAY HAPPY HR. FT $2 ANY DRINK TIL 11P
LADIES FREE TIL MIDNIGHT
713.530.7264 or 832.722.5482 FOR INFO/TABLES
KAPRI ULTRA LOUNGE
5718 Fairdale Ln
http://www.kaprisaturdays.com


---

Click Here For Info
BGE + LiveHouse
presents
GHOSTBAR SATURDAYS
3105 Main St | Houston Texas | 77002
Houstons Newest Nightlife Destination
RSVP for Free Entry
Dresscode: FLY SH*T ONLY
Bottle Service Is Highly Recommended
For Tables & Info Call/Text 713.459.9019
RSVP FOR FREE ENTRY
GHOSTSATURDAYS.EVENTBRITE.COM


---

Click Here


Chemistry Lounge Saturday.
Houstons #1 Saturday NightLife
Complimentary Hookahwith This RSVP socialifesyle.com
Sound By DJ Tatat , DjRoyalty & 97.9 very own Dj YoungStreetz.
Games on all 13 Big Screens.
$100 Presale Bottles.
Full Kitchen & Custom Hookah
For Sections 713.960.2625


---

Click Here
Brunch & Bullshit is the all new Saturday Brunch series
in Houston at The Seaside Lounge featuring your
favorite beats in an environment with a crazy vibe.
Enjoy brunch from 11am-5pm and a Day Party from 5pm-8pm.
Come enjoy some of our signature dishes including:
Shrimp & Grits, grilled salmon & cheese grits,
chicken and waffles anong many other amazing seafood based options.
Be one of the first to try one of our unique spins
on mimosas or one of our other signature cocktails.
Seaside Lounge
702 W Dallas St
Houston, TX 77019
11am-5pm
http://www.gotbrunch.com


---

Click Here For Info


Grooves Saturdays 
Power Hr Happy Hr 
$5 Premiums All Night 10pm-11pm
No Cover All Night w/RSVP
Book Your Free Party Section


---

Click Here For Info
FREE ENTRY & FREE HENNESSY COCKTAILS w/RSVP
http://www.influencershouston.com
10PM - 2AM
PRIVACY SATURDAYS LOCATION
2900 TRAVIS ST HOUSTON TX 77006
FOR MORE INFO OR SECTION RESERVATIONS 832.713.8404


---

Click Here


Saturdays At Bar 2200
Free Entry All Day w/Rsvp
Doors Open At 3pm
Happy Hour From 5-9pm
$5 Vodka,
$6 Whisky, $6Cognac, $6Tequila
$20 Hookahs
Sports Games on All Screens
Bottle Service Available
Full Kitchen Serving The Best Food In River Oaks


---

Click Here
TEXT REGG
presents
Eats Beats & Jazz
3 Showtimes
8pm - 930 - 11pm
The Bleek Gillium Project'
with Marium Echo
3 Rooms + Full Kitchen + 2 DJs
textregg.eventbrite.com or TEXT REGG for Seats and Tables

---
---